Like so many Germans, I love England.
The first time I moved here was in 2003, and both I and the country itself have changed a lot in the years since: Back in the day,"German" and "Nazi" were still quite closely associated; then came Frau Merkel and re-focused everybody's attention — up until Lidl and Aldi arrived in more and more cities across the country, meaning non-Swastika brands are now shaping the image of my home country!
Given the turmoil and divisions of the past couple of years, I have decided to take stock, and also to remind myself and my friends of the many thing I love about this country: the myriad way of queuing and apologising; the unshakeable belief in one's ability to win on penalties; London and the Cotswolds and Cornwall and the Lake District; Leicester City and Mary Anning and the Plimsoll Line and Marmite; the News Quiz and collective nouns for animals — 111 reasons, at least! And, surely, the most important one has to be the religious belief in the cuppa as a cure against all ills and evils in this world.
The result of my quest into reasons to love England is this new book, due out on 1 September 2018, with Schwarzkopf & Schwarzkopf. It's written in German so as not to just preach to the choir — and to contribute a little bit to cross-Channel communications in times of EUlienation (is that a word?).
So here's my book on England — I hope you find at least 111 reasons to love it!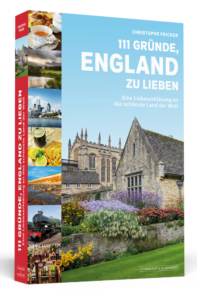 Christophe Fricker
111 Gründe, England zu lieben
Eine Liebeserklärung an das schönste Land der Welt
ca. 288 Seiten | Premium-Paperback mit zwei farbigen Bildteilen
Verlag Schwarzkopf & Schwarzkopf
ISBN 978-3-86265-714-8
14,99 EUR (D)