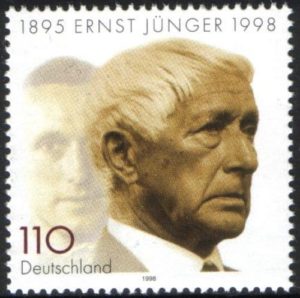 Everyone is invited to an afternoon of translation events on 17 December 2013 at the University of Bristol's School of Modern Languages (SML). The schedule of this new iteration of Translatable! is as follows:
2pm: workshop with distinguished Canadian translator Thomas Friese
4pm: translation slam showcasing two winners of the Ernst Jünger Translation Competition recently hosted by SML with support from the EU
5pm: prizegiving ceremony
Registration is free, and all are welcome. All three events will take place in 43 Woodland Road, LT1.
If you would like to attend the workshop and/or the translation slam, you are encouraged to e-mail me (christophe.fricker@bristol.ac.uk) in advance. Knowledge of German is not required to enjoy either event.
Six translators will receive awards or special commendations for their entries to the Ernst Jünger Translation Competition: joint 1st prize of £300 each will be awarded to Nigel Cooper and Jack Davis for their translations from Jünger's Am Sarazenenturm (By the Saracen Tower). Third prize of £100 will be awarded to Iwona Luszowicz and Steve Laird for their collaborative translation from Jünger's Atlantische Fahrt (Atlantic Voyage). The entries of Julian Reidy and Simon Pare will also be commended at the event. The competition's dedicated undergraduate prize of £100 will be awarded to Joseph Prestwich; Constance Cramp will receive a special commendation. The three commended entrants will receive a copy of Heimo Schwilk's opulent biography of Jünger, Ernst Jüngers Leben und Werk in Bildern und Texten, and thanks to the generosity of Klett-Cotta Verlag, Jünger's publisher, all participants will receive a copy of Heinz Ludwig Arnold's Jünger reader, Ein abenteuerliches Herz.
The competition was judged by writer and translator Julian Evans, Dr Christophe Fricker (Bristol), Jünger's translator Thomas Friese, Dr Petra Rau (UEA), and Professor Robert Vilain (Bristol). Sixty-four entries were received from 11 different countries from four continents. Participants were asked to translate an 8-page excerpt of their choice from one of three books of Jünger's travel writings: Atlantische Fahrt, Am Sarazenenturm, or Zweimal Halley (Halley Revisited). Funding for the competition was made possible as part of an EU-funded Marie Curie Action, focusing on Ernst Jünger's intercultural encounters. This research project is currently being carried out by Christophe Fricker at the University of Bristol.
Ernst Jünger (1895–1998) was one of the most significant writers and thinkers of 20th-century Europe, and is one of the most controversial. He became famous with the publication in 1920 of In Stahlgewittern (Storm of Steel), an account of his experiences in the trenches in the First World War. In the following eight decades Jünger published more than fifty works, including diaries, novels, stories and essays. His novella Auf den Marmorklippen (On the Marble Cliffs, 1939) is a thinly veiled critique of the Nazi regime. During his lifetime and after his death Jünger has secured a prominent place in intellectual debates across Europe. He was a citizen of the world as well as a European, and there were few corners of the world he did not visit. The Ernst Jünger Translation Competition has aimed to enhance Jünger's reputation in the Anglophone world and to highlight his substantial body of travel writings, which has received comparatively little attention, even in Germany.