UPDATE: Due to the high number of submissions, we're taking slightly longer in making a decision. We will announce the winners on September 27, 2013.
As part of my EU-funded research project at the University of Bristol's German Department, the university's School of Modern Languages hosted an Ernst Jünger travel diaries Translation Competition. It invited translations of extracts from some of Ernst Jünger's travel writings. The deadline for this competition was July 1, and my colleagues and I are pleased to announce that the competition has received a large number of entries: 64 entries were received, sent not only from the UK and Germany but from a variety of other countries as well, including the United States, New Zealand, and India. Each participant translated an eight-page passage from selected travel writings by Ernst Jünger (1895-1998), a German author, warrior, and entomologist.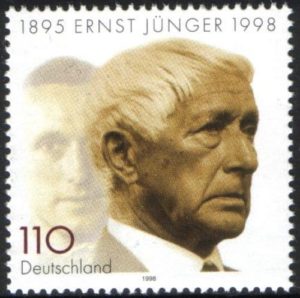 The large number of entries shows that there is a real interest in Ernst Jünger's works, both in England and further afield. Entries will now be reviewed by a five-member jury which includes translators Julian Evans (Bristol) and Thomas Friese (Vienna) and scholars Robert Vilain, Head of Bristol's School of Modern Languages, Petra Rau of the University of East Anglia, and myself. Participants will be notified by early September as to the result of the competition. Four prizes will be awarded, including one reserved for entries by undergraduates. As a gesture of gratitude towards the many participants involved in the competition, each will also receive a book prize from Ernst Jünger's German publisher, Klett-Cotta.
Over the past several months, a number of translators and representatives of cultural institutions have been in contact with the School of Modern Languages at Bristol to voice their enthusiasm for Jünger, or to engage in a discussion about the political and social convictions held by Jünger. The competition has thus provided an occasion for numerous exchanges between scholars and members of the public interested in an author who is now a focus of research at Bristol.
There were three texts from which participants could choose a passage for translation. Atlantische Fahrt, first published in 1947 for German PoWs in England, is based on the diary of a 1936 voyage across the Atlantic to Brazil. Traveling from Nazi Germany, Jünger was particularly fascinated with emergence of Brazil as a modern, multi-racial society. Am Sarazenenturm chronicles one of Jünger's countless mediterranean journeys, a number of which led him to Sardinia. Zwei Mal Halley is the account of a 1986 trip to Malaysia undertaken by Jünger to see Halley's comet for the second time.