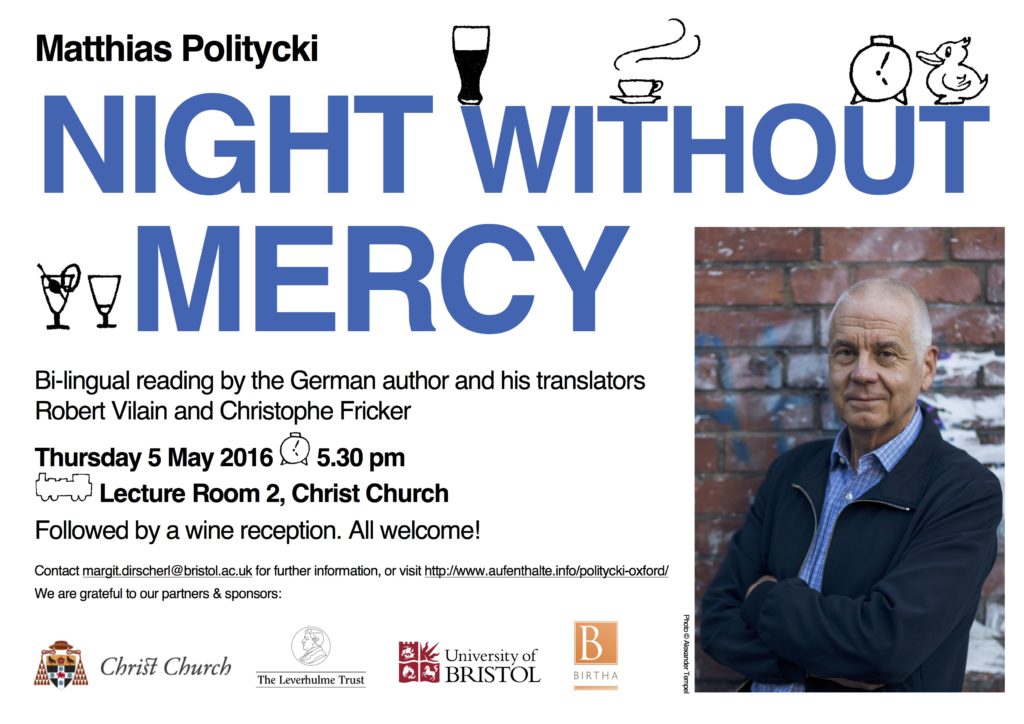 One of Germany's best-selling novelists and most inspiring poets finds himself at the centre of a very particular kind of creative enquiry: Matthias Politycki will return to England in the first week of May 2016 to be translated — by students and scholars of German!
Particular attention will be paid to Politycki's formal poetry, through Christ Church German Professor Robert Vilain's translation of a number of the poet's sonnets. Ranging from sturbborn irony to light-hearted melancholy, they defy the conventional wisdom that contemporary poetry has to be a difficult, free-verse affair.
I should clarify that they are, of course, difficult — for the translators! But both Robert Vilain and I will try and do justice to poems formal and informal, and present them at a reading with Matthias Politycki in Oxford on 5 May, at 5.30pm, in Christ Church's Lecture Room 2.
We are grateful to cultural studies researcher Margit Dirscherl for bringing Matthias Politycki over to England again, where he has long been a vigorous visitor. Amber evidence is provided by his London für Helden (London for Heroes), an epic journey along the "ale trail" around the British capital.
More information about Matthias Politycki is available on his website. The Oxford reading will be followed, on Friday, 6 May, at 6pm, by a reading at the University of Bristol (at LT1, 43 Woodland Road).
For more infomation on the two readings with Matthias Politycki in Oxford and Bristol, please email Margit Dirscherl.